45 years of industry

leading needle innovations.
At TSK, we put great emphasis on developing new technologies and product innovations. We aim to deliver new solutions to the aesthetic, interventional radiology ophthalmology and dental market, that improve the clinical outcome while simultaneously improving patient safety and comfort. Over the years, we have never stopped developing new technologies, making continuous efforts to develop safe and practical product solutions that fit in with our credo:
Injections made perfect.
TSKiD™ Technology.
Up to 35% less extrusion force.
Smoother and controlled injection.
TSK has developed special TSKiD™ needle barrels that have enlarged inner diameters. TSKiD™ technology differentiates TSKiD™ Standard, Large and MAX. Where the inner diameter of a 30G needle compared to the ISO standard increases up to 65% with TSKiD™ Max.
Up to 34G needles.
Near painless injection.
Better overall patient experience.
TSK Laboratory's technology advancements have made it possible to make needles 33% thinner than a 30G needle (used for syringes with fixed needles) and 14% thinner than the TSK 33G needle.
Dome shaped
tip cannula.
Easier cannula introduction.
Reduced risk of bruising.
The patented dome shaped tip of the STERiGLIDE™ creates less resistance than a traditional cannula tip. This reduces the cannula introduction force needed and the risk of bruising.
Nearest to tip
cannula lumen.
More accurate filler placement.
Reduced product loss.
Practitioners can see and feel the end of the cannula tip. Delivery of filler near the end of the tip creates a more accurate sense of filler placement. It also reduces product loss in the tip ending.

Proprietary surface treatment.
Up to 50% better gliding.
Reduced patient discomfort.
STERiGLIDE™ cannulas are made of the highest quality steel with a proprietary surface treatment. This reduces friction with skin tissue and patient discomfort, and improves the cannula handling.
Interested in a custom needle solution?
As an Original Equipment Manufacturer (OEM), we are a complete provider of high-quality custom-design medical devices. We are the expert in the field of needle production and we are well known as the complete solution provider, helping the customer to design and manufacture the product from steel to finish. View custom projects

Low Dead Space.
No product loss.
Significants cost savings.
The Low Dead Space hub is designed to reduce the effective space left behind in the needle hub as close to zero.
This new patented LDS hub design results in savings of up to 0.08ml of product.
LEFT: LOW DEAD SPACE HUB, RIGHT: REGULAR HUB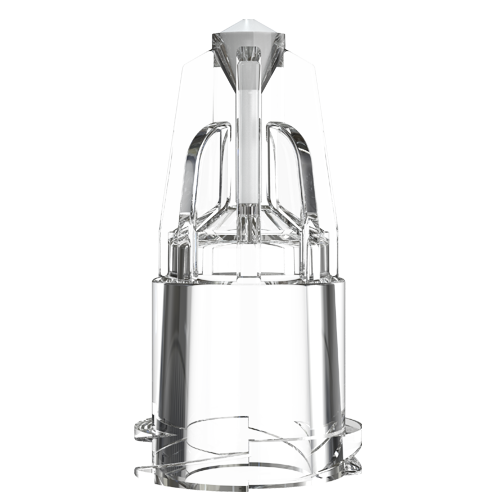 Advanced hub geometry.
Best possible flow rate.
More controlled injection.
Dermal fillers have a high viscosity and contain small particles that make injections more difficult. The HPC hub has a wider internal geometry for improved flow rates. The HPC hub also has an overall shorter length than the PRC hub.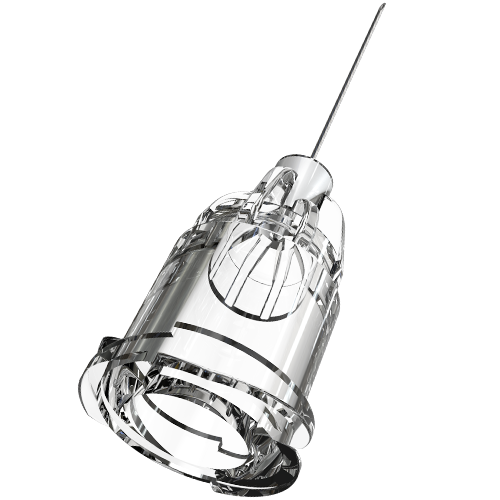 External
threading.
Reduced pop-off risk.
Prevents leakage.
The HPC or "advance hub" allows for an even tighter luer lock connection because of the built-in exterior treading. Preventing "pop-off" of the hub when exposed to high pressures.

BPA FREE NEEDLE
Free from bisphenol-A & BADGE.
Free from titanium dioxide.
The BPA FREE NEEDLE is produced using only safe components in production, free from Bisphenol A, BADGE and titanium dioxide.
Hard polymer.
No flexing.
Prevents leakage.
HPC hubs are made using an extremely hard polymer preventing "flexing" of the hub when exposed to high pressures which ultimately prevents leakage and needle pop-off.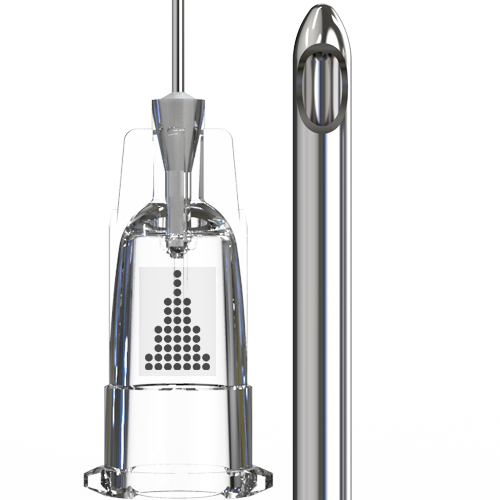 Side-port marking.
More accurate filler placement.
Better handling.
The hard polymer hub of the STERiGLIDE™ cannula has a clear side-port marking. The marking indicates the position of the needle opening and acts as a visual aid for more accurate filler delivery.

| TSK Laboratory International ©